FIND YOUR OPTIMAL SWING PLANE WITH THE GOLF BOKS COLLECTION OF TRAINING AIDS
IMPROVE YOUR SWING WITH THE #1 BOX IN GOLF
DRILLS & APPLICATIONS USING THE GOLF BOKS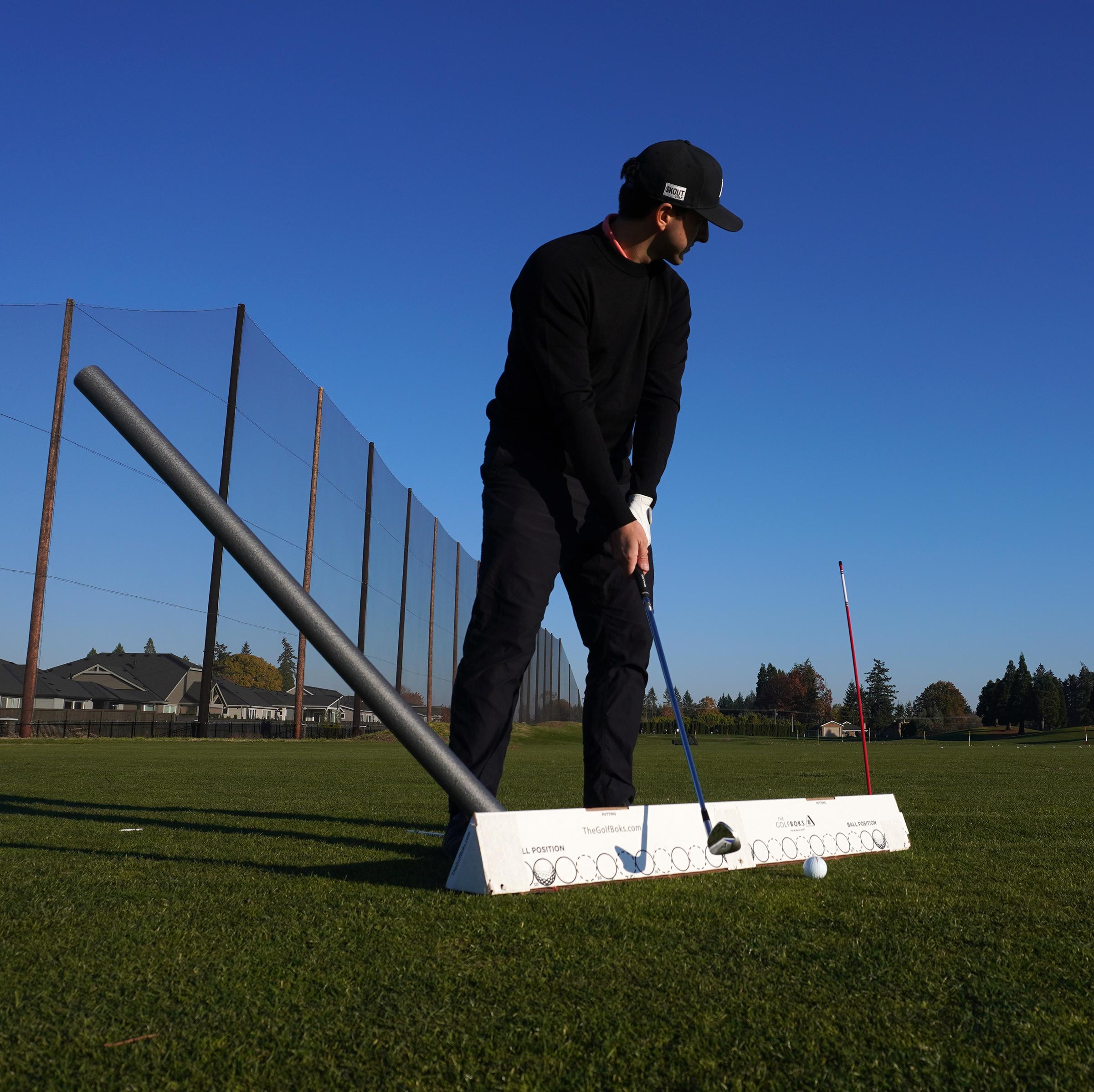 SEE YOUR CLUB PATH
Visualize the perfect path for your shaft and clubhead through the impact zone with our full plane board setup.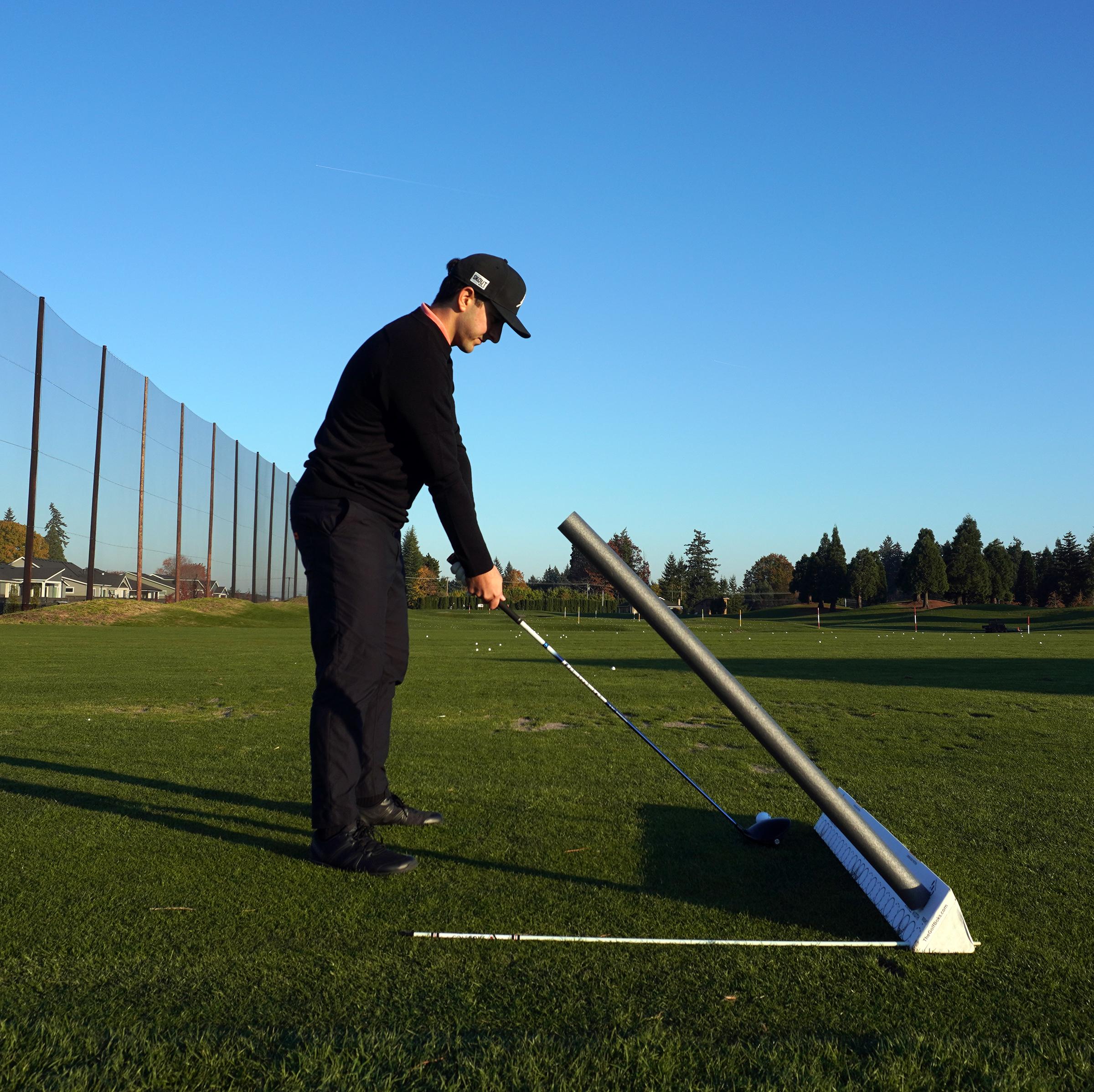 USE ANY CLUB IN YOUR BAG
Adjust the foam noodle's plane so you can hit with Driver all the way to Wedge.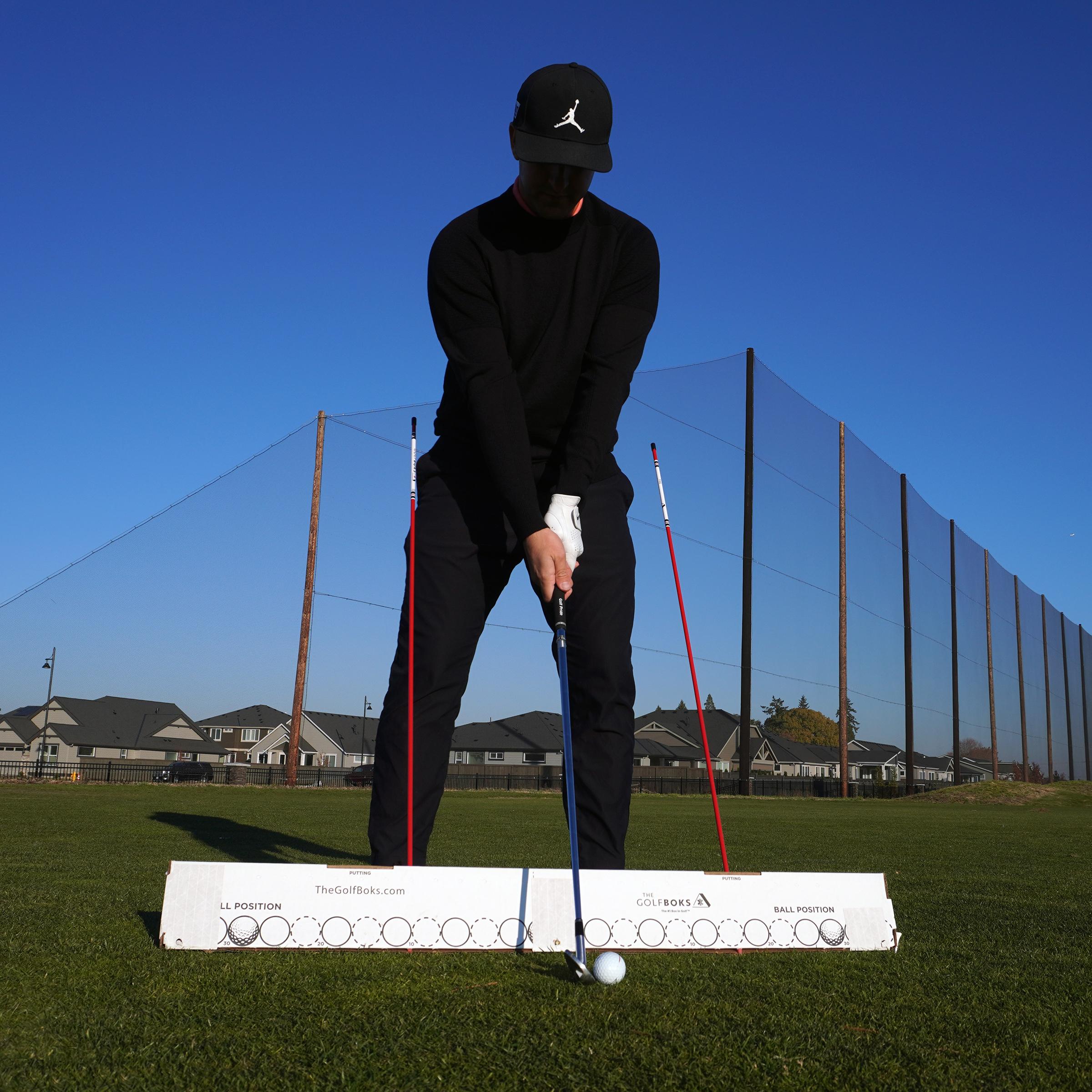 STOP UNNECESSARY SWAY & PERFECT YOUR PIVOT
Use the Boks to stop your hips from swaying too much away or towards the target.
Add the Black Belt to see how much you're actually turning your hips and torso.
Creating a big turn around a centered pivot is key to hitting the ball further and consistently.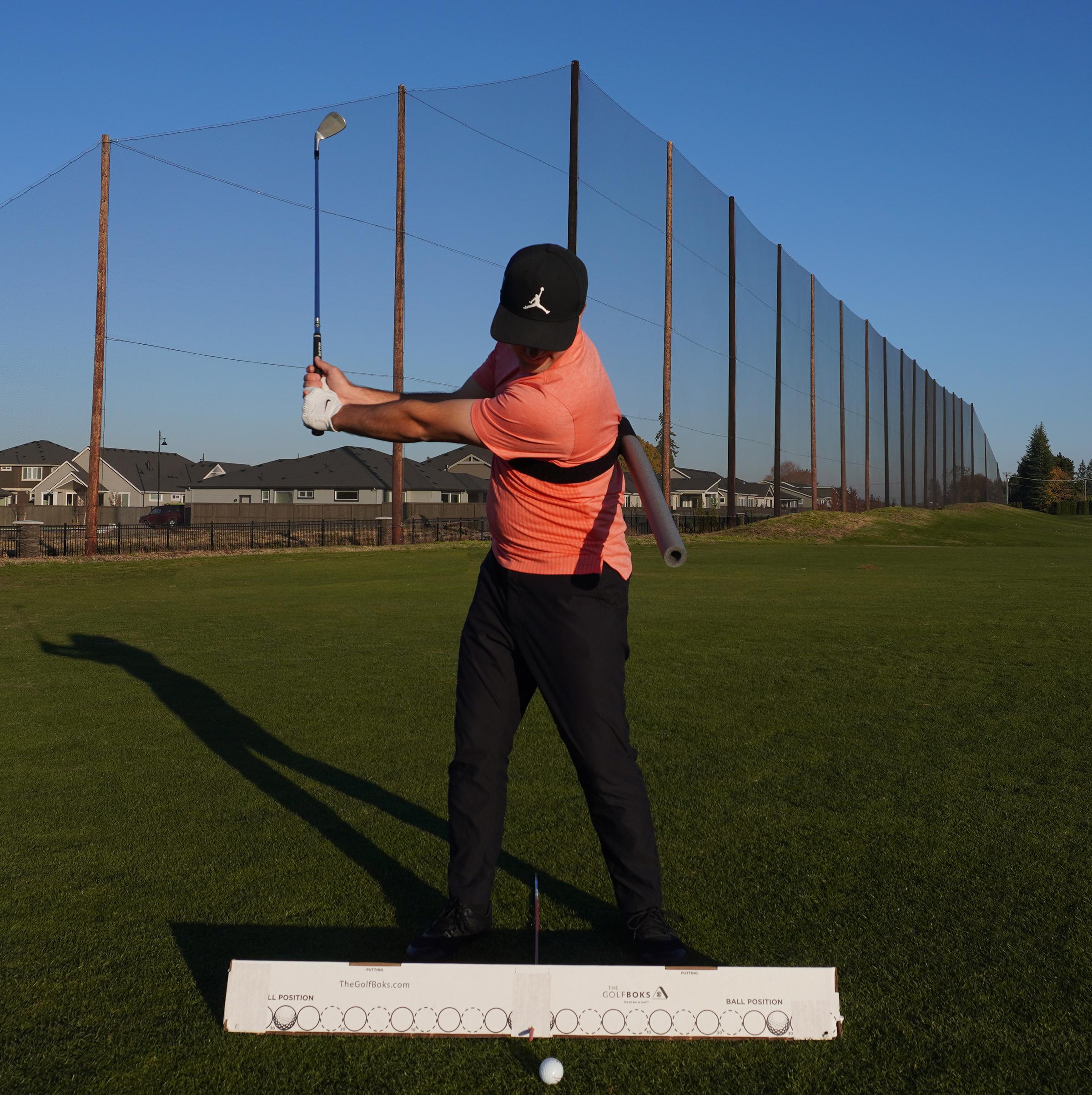 WHY'S THE GOLF BOKS
THE #1 BOX IN GOLF?
The Golf Boks turns a simple cardboard box into a versatile golf training aid that you can use to practice on the range, at home, in your backyard, or at the office.
The Boks is not shipped in another cardboard box, so it may get scuffed or some extra labels on it during shipping. However, we guarantee that it'll arrive at your doorstep fully functional and ready to help you groove a better golf swing. 
You can use The Golf Boks with an instructor or on your own. Use it to nail your setup, stance width, ball position, and alignment, then get valuable feedback on every swing you make in your practice session.
Our basic Boks Only Package comes with one foam noodle and is perfect for you if you already have alignment sticks.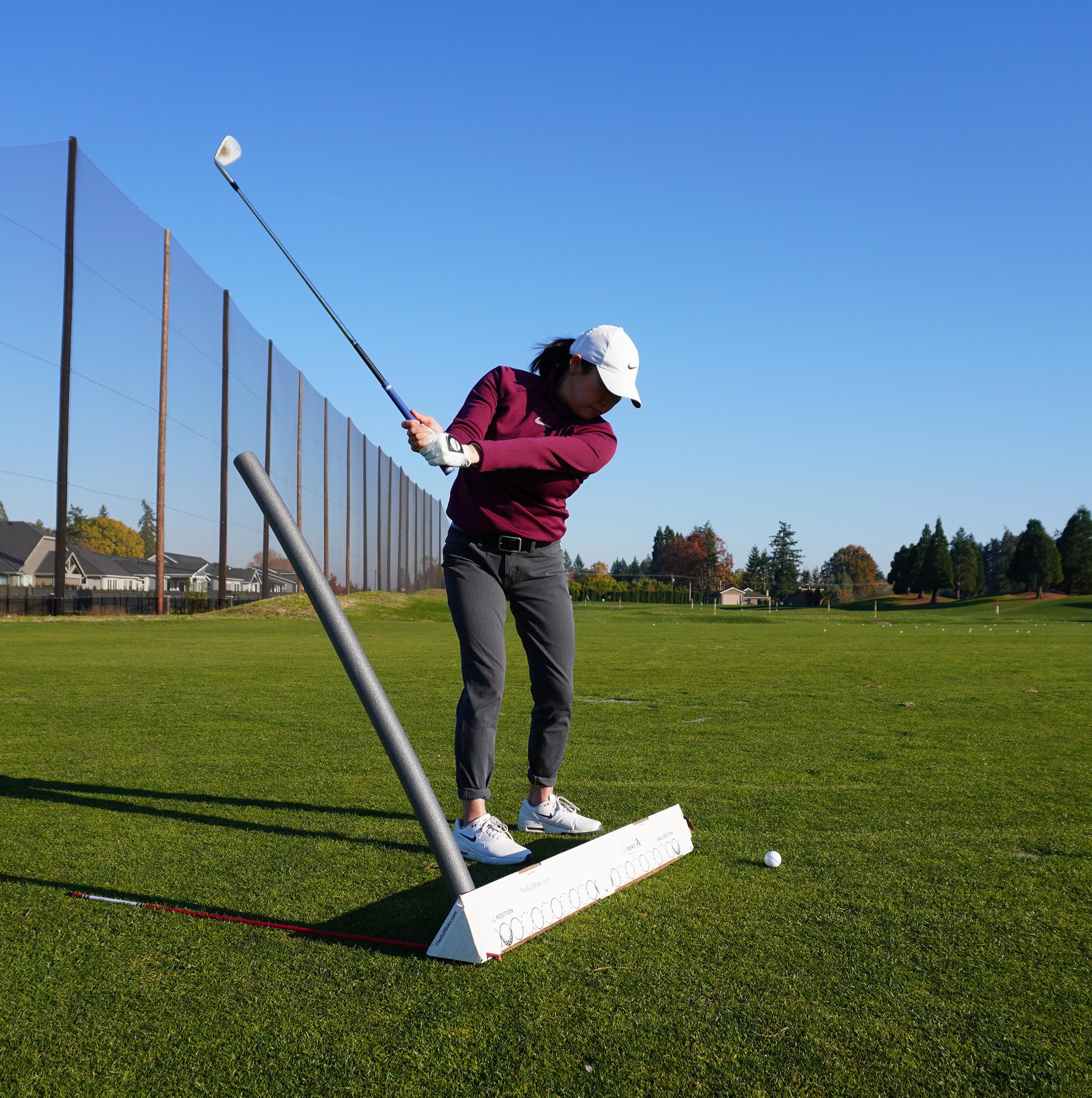 BENEFITS OF PRACTICING WITH
THE GOLF BOKS
With The Golf Boks you can get valuable feedback, perfect alignment, and maximize your practice time. This innovative training aid helps improve consistency and accuracy with every swing, so you can lower your handicap in no time! Plus, the sturdy cardboard box construction makes it easy to pack everything up and store away when not in use.
The Golf Boks is a great investment for golfers of all levels looking to take their game to the next level! Try out The Golf Boks today risk-free, and start on the path toward perfect alignment, an on-plane swing, and a better golf game!
Perfect alignment every time when practicing

Improved accuracy and distance control

Consistent ball flight and trajectory

Hone your golf skills from home, anytime

Easily transportable for practice on the range

Improve your game with a variety of drills that easily adjust to challenge you at every level.

Create more meaningful practice sessions when you use our visual and tactile aids for feedback and to focus on specific shots.
FEATURES OF THE GOLF BOKS
TRAINING SYSTEM
Durable cardboard box construction for easy setup and storage

96 Precision pre-cut holes to insert alignment sticks in a variety of angles and positions

Visuals to help you setup consistently. Including ball position, stance width, and club path.

Ideal for solo or group practice

Use multiple Golf Boks in endless combinations to work on different shots
DON'T JUST TAKE OUR WORD FOR IT.
HEAR WHAT OUR CUSTOMERS HAVE TO SAY
Love this training tool
The Golf Boks has really helped me correct my over the top issue. I've also used it to gain consistency in ball position. This is a great product!
Great product
The Golf Boks product is fantastic and easy to use. The alignment sticks easily slide into the boks to provide almost endless possibilities of controlled practice. I highly recommend this product!
Improved my husbands swing after one week!
My husband has been using it daily and has drastically improved his swing plane.
Great for winter garage work
Fantastic tool to stay sharp during winter months while working on your action in the garage.
Excellent Practice Aid!
- Setup was easy and straightforward
- In addition to the angles pre-punched on the box there is a guide displaying which angles are best for different clubs (wedges, irons, woods, etc.) which is quite useful
- Noodles are sturdy and add a nice visual aid in addition to protection for the poles/your clubs
- Versatile in use both on a simulator or the range
Overall great product and worth the money!
TRAINING AIDS THAT SHIP IN THE GOLF BOKS
Our goal is truly that you get The Golf Boks for free! We've designed it to ship other training aids in it, so that when they arrive to you, instead of just recycling the cardboard box you can reuse it to improve your golf swing.
We're proud to offer the easiest way to mount your phone and film your swing with the GPOD. All you have to do is stick the GPOD in the ground and attach your phone to the magnet. Use it to film your practice sessions, on-course swings, or screen while using your radar.  We also offer a mini version of the GPOD. Attach the GPOD mini to an alignment stick, and shove the alignment stick into the ground. 
We've also designed another in-house golf training aid called The Black Belt. It's a velcro, neoprene belt that attaches to a foam noodle, then loops around your body, holding the noodle in place. You can use the Black Belt to set how your body moves through your swing. Get visual feedback and learn how to add turn to your swing, improve your body tilts, and learn to stay in posture throughout the entire motion. 
Browse through our selection of various bundles that include the GPODs, alignment sticks, and Black Belt. All shipped in The Golf Boks!
WHO ARE WE?
Designed by golfers, for golfers. We're Jennie & Sebastian, golf coaches who met at our golf academy SKOUTgolf in Beaverton, Oregon.
We've coached junior golfers at the highest level, and (one of us) played at the highest level.
We strive to make quality, innovative, and affordable training aids to help us on our mission to grow the game of golf by 1%.
100% Made in the USA
We're proud to say that all of our Bokses, foams noodles, and alignment sticks are made at home in the USA.
100% Reusable & Recyclable
Our Bokses, foam noodles, and alignment sticks are 100% recyclable but more importantly we've created 100% reusable packaging.
Get Your Perfect Practice Station Setup Today With the Golf Boks!
Are you ready to take your game to the next level? Get The Golf Boks golf training aid today, and start honing your swing with precision and consistency!
SIGN UP FOR OUR EMAIL NEWSLETTER TO BE THE FIRST TO KNOW ABOUT NEW PRODUCT DROPS, EXCLUSIVE DEALS, AND FREE INSTRUCTIONAL CONTENT.